Stephanie Gottfried with Mina Gravatt – Farmington, New Mexico … "You have to have faith to put a seed in the ground and God will do the rest," said Mina Gravatt, head teacher at Discover Christian School.
The comment expresses Mina's goal to make Adventist education more affordable and accessible to the families in Farmington, Aztec, and the surrounding areas in New Mexico, who want their children to study in an Adventist school.
At home one day, Mina noticed an irrigation ditch on a neighboring farmer's property, unused and full of weeds. She knew she could find a purpose for this unused section of land and asked if she could plant some crops there. The irrigation ditch had been used to water 20 acres of land, a quarter of an acre of which Mina eyed as a potential corn field. Her goal was to sell the crops at a weekend farmers' market in mid-August and use the funds to help her students.
It was Dane Parks, a member of the Pinon Hills Adventist Church and a son of the farmer who helped in the planting. Working with several volunteers from the Farmington and Aztec churches, the group sold hundreds of dollars worth of produce–corn, cabbage, and other vegetables. They filled the back of a truck with the produce and drove back for more.
Nearly 2,000 ears of corn were sold, according to Mark Phillips, pastor of the area Adventist congregations.
Mina commented, "Plant just one seed and that seed will multiply. Think of all the kernels of corn that one seed produced."
–Stephanie Gottfried with Mina Gravatt. Photos by Mark Phillips.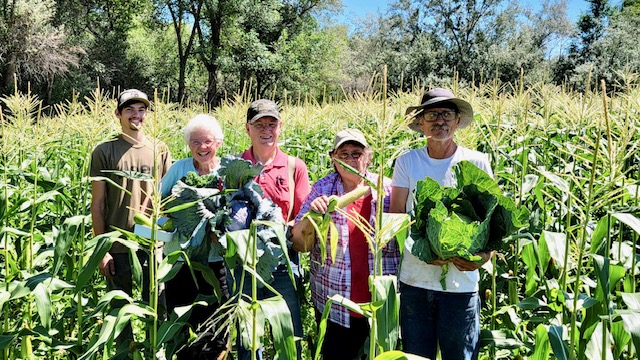 Pictured are Dane Parks, Sharrel Fuller and Bob Fuller from Aztec, Mina Gravatt from Farmington, and Jay Bean from Aztec.