Welcome to the Hispanic Ministries page for the Rocky Mountain Conference. Our mission is to serve and help our Latino churches in fulfilling the gospel commission given by Jesus. We currently have 30 Hispanic churches groups and companies. These groups are served by this department through camp meetings, training seminars, and resources made available to these groups to encourage growth in the spiritual walk and to evangelize their communities.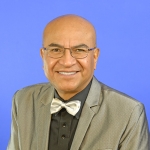 Rubén Rivera R.
Director
E-mail: 
[email protected]
Mobile (303) 910-1614   Office (303) 282-3621  Fax (303) 282-3656
Ministerios Hispanos
FEJA Federación de Jóvenes Adventistas (Hispanic Youth Federation)
MINISTERIO DE LA MUJER Certificaciones y Entrenamientos
MINISTERIO INFANTIL Certificaciones y Entrenamientos
INTEL Instituto Teológico de Entrenamiento para Líderes. Certificaciones
INTEL-UNIVERSIDAD DE NAJOVOA Diplomados
RETIRO DE MATRIMONIOS Anual
RETIRO DE DAMAS Bi-anual
RETIRO DE CABALLEROS Anual
ESCUELA BIBLICA DE VACACIONES Entrenamientos
CONGRESO DE JOVENES anual
ENTRENAMIENTO PARA DIRIGENTES DE IGLESIA Anual
CONCILIO DE EVANGELLISMO Anual
PROGRAMAS VIRTUALES Federación de Jóvenes
DIA DE ORACION DE LA MUJER Anual
DIA DE LA PREVENCION DEL ABUSO Anual
DIA DE ENFASIS DEL MINISTERIO DE LA MUJER Anual
DIA DE AYUNO Y ORACION Anual
EVANGELISMO PUBLICO DE PRIMAVERA Y OTOÑO
MINISTERIO A LA COMUNIDAD. Bancos de Alimentos
Durante el 2021 los eventos serán virtuales
Directorio de Iglesias Hispanas (PDF)
DISTRITOS PASTORALES:
Pastor David Rodríguez: Westminster, Pecos, Loveland y El Refugio Tel. 720-496-5849.
Pastor Juan Estrada: Colorado Springs, Greeley, Nueva Esperanza y Steamboat Springs-Frisco Tel. 719-433-3641
Pastor Michael Shannon: Rifle y Carbondale Tel. 970-623-6854
Pastor Wilmer Martínez: Bloomfield, Pagosa Springs  y Durango Tel. 651-301-9204
Pastor Frank Wilson: Brighton, Aurora y Boulder Tel. 720-939-5472
Pastor Ruben Balaguer: Gypsum, Glenwood Springs, Grand Junction, Olathe y Montrose Tel. 970-759-8357
Pastor Hugo Guillén: Denver Sur y Denver Central Tel. 714-483-4173
Pastor Herbert Hernández: Northglenn Tel. 213-804-8087