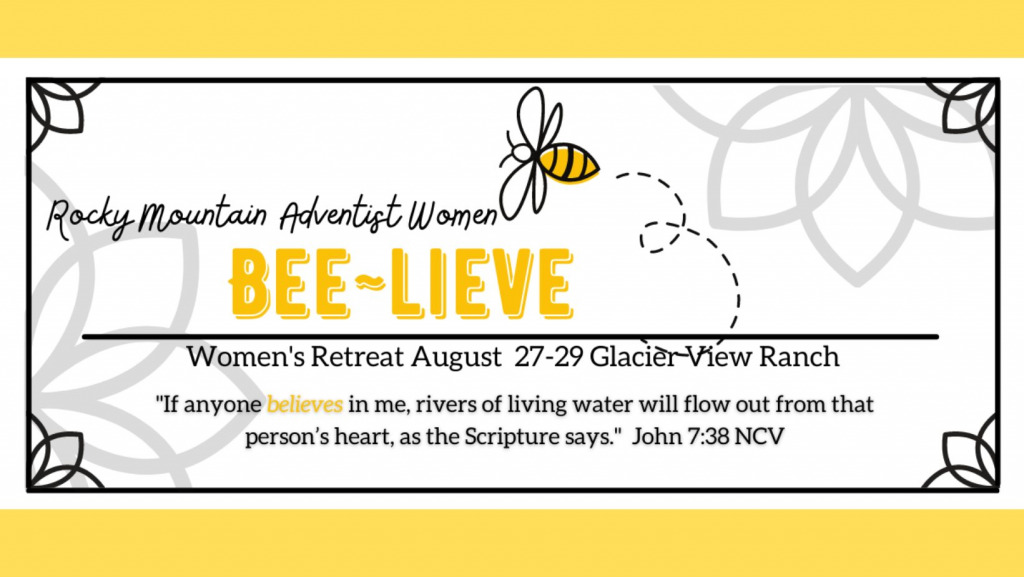 We are so excited to be able to gather for our "Bee-Lieve" Glacier View Ranch Retreat August 27-29, 2021, with special guest Tamyra Horst! PLEASE NOTE DATE CHANGE only for this year. Invite a friend and plan to come!  All registration is online CLICK HERE TO REGISTER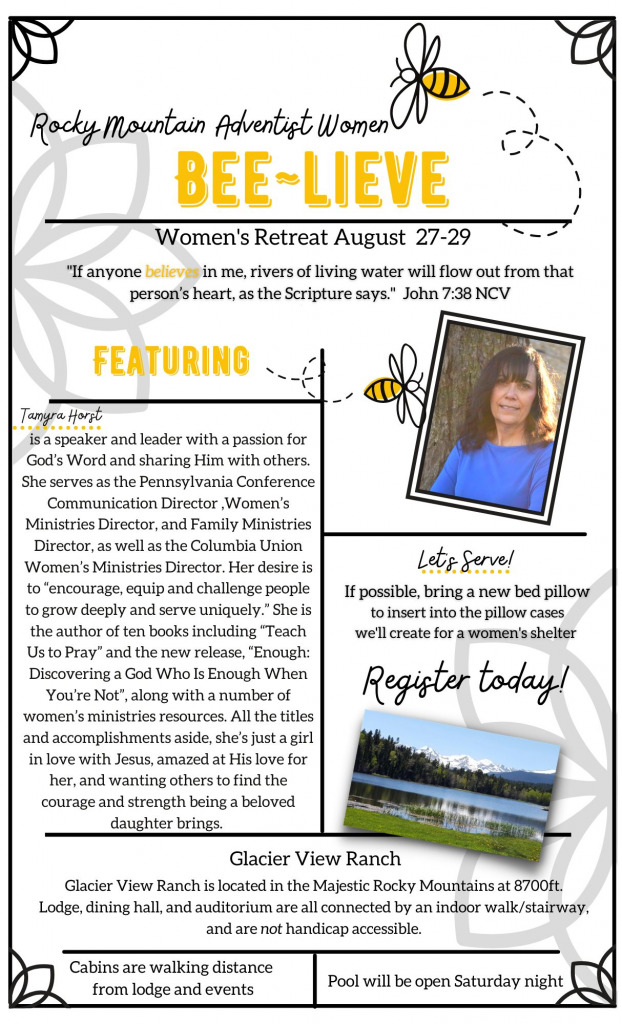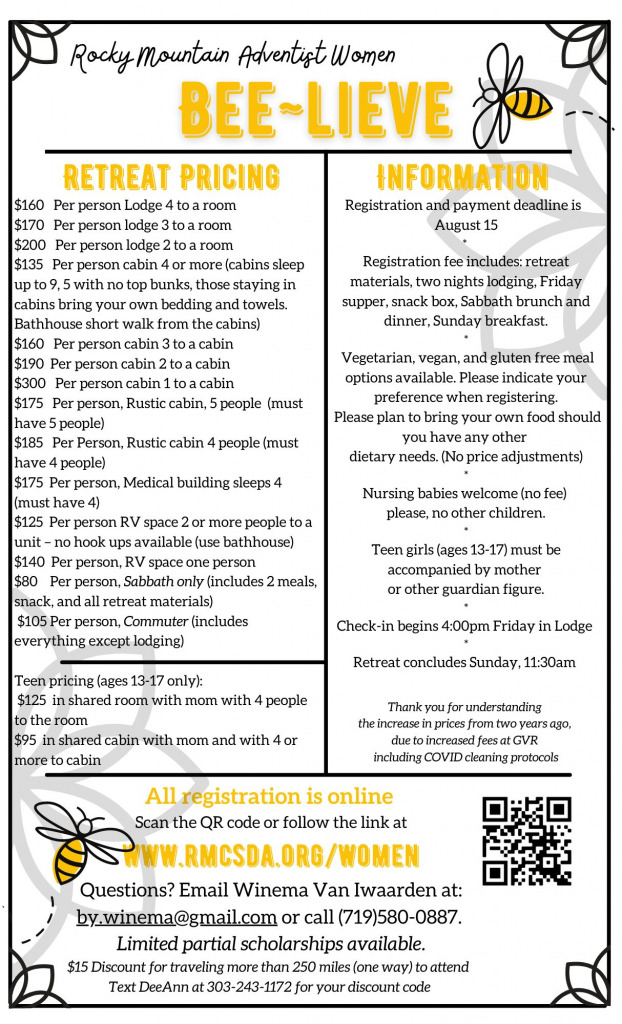 __________________________________________________________________________________________________________________________________________________________

Announcing……..
Our Rocky Mountain Adventist Women Gal Pal Blessing Challenge!
This year we're encouraging YOU, our amazing RMC women, to intentionally give hope and courage to other women both in your church an in your community – and throughout the year we'll give several 'challenges'!
Why not encourage your local women's ministries to join in the fun – use our ideas and/or come up with your own – and let us know so we can share them, too!
OUR NEWEST CHALLENGE: Ding Dong Dash!
Share something fun with another woman and SHH…. Do it anonymously! Share a card, small gift, flowers, something delicious – or even just a text or call – just be intentional about bringing courage and hope to a woman God puts on your heart! Pray – ask God to show you who needs His love expressed through YOU!
Take a picture and please share it on social media with #galpalblessingchallenge (You can send it to us and we'll share it if that's helpful!).
FREE PRINTABLES IN THE TABS BELOW!!!
_________________________________________________________
WOMEN'S MINISTRIES EMPHASIS DAY AND OFFERING  SABBATH, JUNE 12
June 12 is a special Sabbath to highlight Women's Ministries! You can find resources HERE 
The offering is important to women's ministries because it helps fund evangelistic projects and leadership training for Rocky Mountain Conference, Mid-America Union, and North American Division.  (And YOU can ask for funds for an evangelistic service project you may do in your local church!) Mark your tithe envelope or online giving NAD WM Offering.
---
LEADERS – DON'T MISS OUR MEET AND GREET Sunday, June 13, 9-11am on zoom! (NOTE DATE HAS CHANGED!)
All women's ministries leaders of our RMC churches are invited to a virtual meet and greet Sunday, June 13, 9-11 am! If you cannot attend, please send someone from your women's ministries team! Please register (FREE!) on the form below so we can send you the zoom link!
---
We're glad you stopped by! Women's ministries just that – all kinds of ministry done by all ages of women all around Rocky Mountain Conference! What's ministry? The dictionary defines ministry as the act of serving.
Rocky Mountain Adventist Women are on a journey together – seeking to know Jesus better every day, the one who gave us the ultimate example of serving.
We do this by gathering for Bible study and times of prayer. We do this by serving in our local churches. We do this by providing times of laughter and fun as girlfriends. We do this by planning baby showers and bridal showers and taking meals and watching each other's kids. We do this by helping our neighbors and sharing each other's burdens.
We laugh together. We cry together. We grow together. We serve together. We are Rocky Mountain Adventist Women, and we minister every day.
C'mon! Join us!
Watch for upcoming events and share yours with us! Remember, the most important women's ministries "event" you can do is to connect with other women to pray, laugh, serve, and grow!
To find out more about women's ministries, ask your local church women's ministries leader how you can help, or contact DeeAnn Bragaw for resources and ideas to get women's ministries up and running in your church!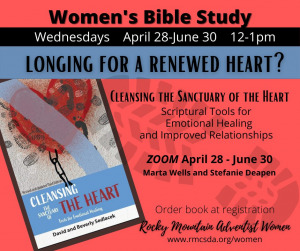 CLEANSING THE SANCTUARY OF THE HEART Bible study.
Ready for a renewed heart and better relationships? Join our weekly lunch time Bible study! Wednesdays 12-1pm April 28-June 30
Register here & order the book/workbook when you register.
SPARKLE SISTERS BIBLE STUDY!
You're invited to join our online Bible study every Thursday night 6-7pm
SPARKLE Sisters is currently going through SPARKLE women of the Bible, and tonight, Thursday, November 5, 2020, We'll be learning life lessons from another Abigail. Bring your Bible and join in – you're invited!
Join Zoom Meeting
https://rmcsda.zoom.us/j/99311542313?pwd=b083dzhPSmJMRXBnWm4xWi9nNkZaUT09
Meeting ID: 993 1154 2313
Passcode: 7727553.  (Spell SPARKLE with your phone!)
+1 312 626 6799
RETREATS 2021:
Glacier View Retreat – DIFFERENT DATES THAN USUAL! August 27-29, 2021, More to come!
Mountain Top Retreat in Montrose – September 10-12
We'll keep updating our page!