We're glad you stopped by! Women's ministries just that—all kinds of ministries done by all ages of women all around the Rocky Mountain Conference! What's ministry? The dictionary defines ministry as the act of serving. Rocky Mountain Adventist Women are on a journey together seeking to know Jesus better every day, the one who gave us the ultimate example of serving.
We do this by gathering for Bible study and times of prayer. We do this by serving in our local churches. We do this by providing times of laughter and fun as girlfriends. We do this by planning baby showers and bridal showers and taking meals and watching each other's kids. We do this by helping our neighbors and sharing each other's burdens.
We laugh together. We cry together. We grow together. We serve together. We are Rocky Mountain Adventist Women, and we minister every day. C'mon! Join us!
Watch for upcoming events and share yours with us! Remember, the most important women's ministries "event" you can do is to connect with other women to pray, laugh, serve, and grow! To find out more about women's ministries, ask your local church women's ministries leader how you can help.
2023 Annual Women's Ministries Retreat
September 29-October 1, 2023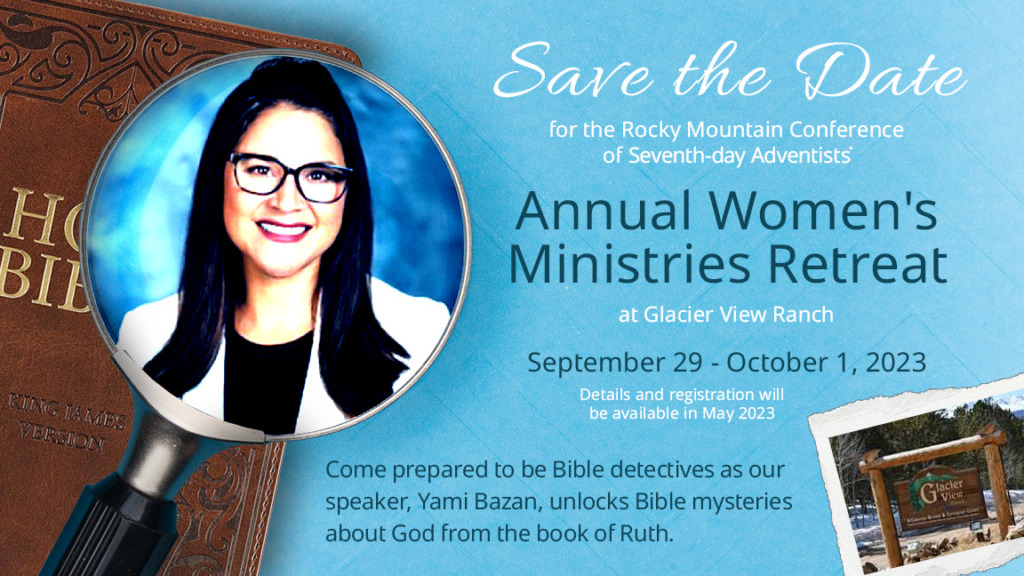 This year's RMC Women's Ministry Retreat will be held at Glacier View Ranch September 29-October 1, 2023. The general session speaker for this year's retreat, Dr. Yami Bazan, will be sharing Biblical insights on God's surprises from the book of Ruth by uncovering hidden gems on love and relationships. We will explore questions such as What clues has God left behind to guide our way forward? What are practical ways to implement Godly ideals in building better friendships? And can those in the past relate to my present circumstance?
Join us to build and renew the blessing that is friendship!
For help with registration, please contact Marlene at (970) 227-6151.