Editor's note: Many staff transitions and retirements are happening at Campion Academy. Below are a few of the long-time staff members who have or are retiring this school year.
Sherry Hay, Registrar
Years at Campion: 1997-2021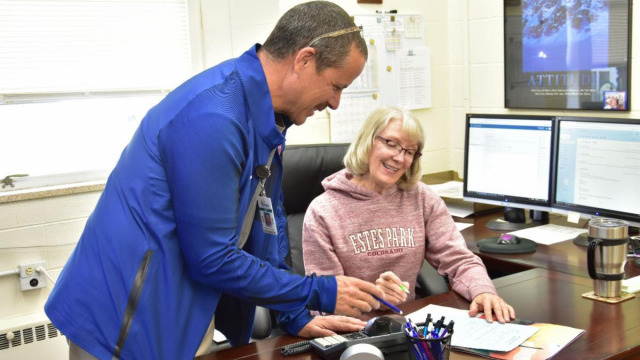 Sherry Hay has announced her retirement after working as registrar at Campion for 24 years. Throughout her time at Campion, Hay has worked under six different principals and navigated changing technology as she created class schedules and kept students and parents updated on their grades and attendance.
Don Reeder, Campion Academy principal said, "Campion Academy will miss her in the registrar position. She is a master puzzle solver; I would challenge her with the class schedule, the calendar, and individual student schedules and she would always make it all work. She's a prayer warrior for God and I will miss her."
Hay has touched the lives of many students. Keziah Paduli, sophomore, commented, "She's an amazing and sweet person and patient with me and other kids. I've noticed that she wants all the students in this school to succeed."
"I have worked for Mrs. Hay since the summer before my freshman year," explained Olivia Jordan, junior. "I have grown very close to her through work and time spent together. She has become like a grandma to me: always there to talk about any of the problems I have or listen to my struggles. She prays with me when I need it. She pushes me to dig deeper and go beyond my dreams and goals. Mrs. Hay has made an impact on Campion with her gentleness and kindness that I will never forget."
Hay is looking forward to the many opportunities retirement brings. She will have more time to exercise, cook, and read. More importantly, she will have time to spend with her daughter when she has her baby in August, and travel with her husband, Bill, who works for Adventist World Radio.
Dan Philpott, Teacher
Years at Campion: 2003-2021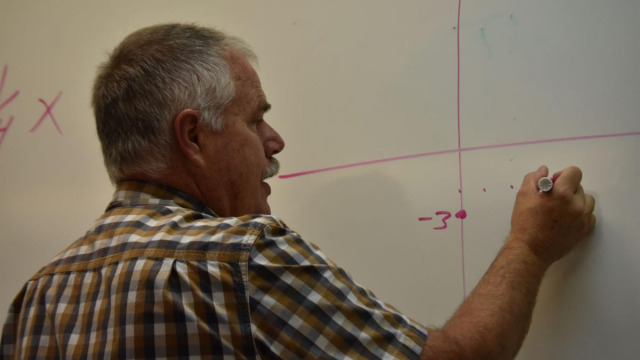 After 18 years of teaching at Campion, Dan Philpott is retiring. He has been the teacher of many classes over the years such as Algebra II, Geometry, and Industrial Arts, encouraging students to do their best academically. Philpott plans to work in a warehouse, building and designing cabinets.
He has encouraged and helped many students and made an impact on each of their lives in different ways. "I've always struggled in math my whole life," stated Jynaya Wright, senior. "When I came to Campion that was actually one of my biggest fears: falling behind in math. But when I got to Mr. Philpott's class, I wasn't scared anymore, because I knew that no matter how many times, he had to explain something to me, he would never give up on me. One of the reasons that I have confidence in math today is because of Mr. Philpott."
Staff members also appreciated working with him. Steve Eickmann, staff member at Campion, explained, "One thing I like about him is that he is a good teacher and he's always calm and respectful with students and is patient with those who struggle in his subjects. He knows a lot of tricks and I've never seen him lose his cool. He's been a good friend over the 15 years I've known him."
Senior Ryan Bell has gotten to know Philpott a little closer than other students as he has been living with him this year at Campion. "I have enjoyed seeing the hard-working side of him, but despite the work, he always has a sense of humor that makes everything more enjoyable."
"Mr. Philpott has made my school experience a lot of fun. Being in his geometry and industrial Arts class definitely has its challenges but, in the end, Mr. Philpott always helps us out and is one of the most patient people I've ever met. I'm going to miss his still, quiet energy on campus next year and it'll be weird without him, but what he taught me that I'll always remember is to "GETTER DONE." We appreciate you and we'll miss you Mr. Philpott!" Melody Mambo, sophomore, exclaimed.
Joe Martin, Bible Teacher
Years at Campion: 1990-2021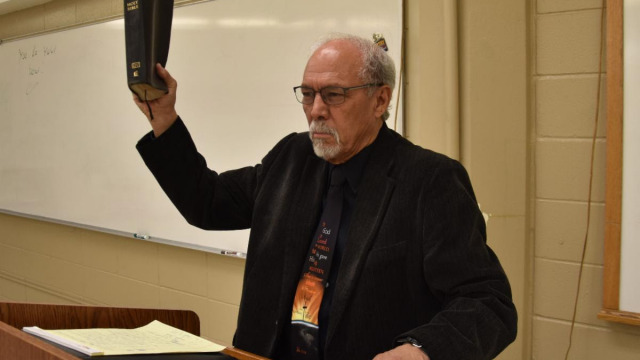 After three decades at Campion, Pastor Joe Martin has stepped down from teaching. Known as "Pastor Joe" by the students, he was actively involved on campus. Martin worked as director of the Literature Evangelism (LE) program for 28 years and taught Junior Bible for his last three years at Campion.
"You could see his determination even in the way he walked down the street. No one on the LE team could keep up with him," said Kelby Eickmann, a Campion alumnus who worked closely with Martin for two summers and two school years in Literature Evangelism. "Pastor Joe impacted my life by demonstrating what passion for Christ looks like. He put his love for God and other people into action. He didn't simply claim to have a desire to serve God; he really lived it. He is relentlessly stubborn and can sell books to anyone," Eickmann added.
Grant Velbis, who graduated from Campion last year, shared his experience in Martin's Junior Bible class. "Pastor Joe's class helped me see that there is so much evidence and reasoning behind the things we believe as Adventists. Just how he lived his life inspired me because he lived with such passion and conviction for Jesus. He didn't just 'talk the talk;' he lived out everything he believed. That is something I would like to have in my life."
Martin's goal for the students he taught and worked with was to help them grow in their relationship with God. Shelby Waller, a junior this year, reflected on the impact of his Bible class. "He taught us directly from the Bible, and he encouraged us to build our own relationship with the Lord. It was up to us how much we wanted to learn, and that motivated us to take notes and to learn more."
"Pastor Joe's class influenced me a lot during my junior year; it was very interesting, and I just couldn't help but pay attention," said Susan Wang, a 2019 Campion graduate and international student from China. "I really liked how he taught Revelation in a way that we have hope after we die. Pastor Joe also reminded us to be thankful for waking up in the morning, daily life, and for receiving help from others. I was really moved by this and so I decided to get baptized. I did Bible studies with him on Tuesday and Thursday mornings before I got baptized, and even continued to do them into my senior year," Wang added. "He gave me a space to share my day and struggles, and he would encourage me with Bible verses and life advice."
Patricia Torres, Learning Resources Director
Years at Campion: 2005-2020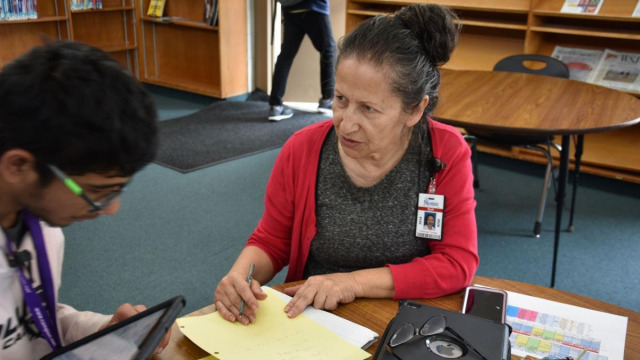 After 16 years of teaching at Campion Academy, Patricia Torres retired this school year. She was the learning resource director as well as an ELL teacher, showing students strategies to be more successful and independent with their work. She hadn't originally planned to retire this year, but she was needed by her family as a care-taker.
"I miss the students so much; it's hard to express," said Torres. After being away from campus since September, she reminisced on her experience here, "I knew God wanted me there and with every student, I would pray that I would be able to bring them closer to him."
Torres taught study skills class to the freshmen class to provide them with tools they would need to be successful academically. Melody Mambo reflected, "She always helped me with my organizational skills and helped me stay on top of things. She had a contagious smile on her face that always brightened everyone's day. I'll definitely miss her presence, and know she beneficially impacted many students."
Senior Amira Davis worked with Torres as an international ambassador, joining her in making the new students feel welcomed. "I loved her enthusiasm and passion for the international students," Davis said. "She really looked out for us and cared about when we were struggling. I'll always miss her smiling, kind face."
Torres was most well-known for the time she would take to work with students one-on-one to meet their individual needs. "She never gave up on me even though it was hard sometimes. She always pushed me to go forward, always teaching me different strategies so that I could do better in school," said Emily Gama, senior. "I would always talk to her as a friend and I miss that. She kept it confidential and gave me advice when I needed it; she was trustworthy."
Torres shared some final words of advice for the students, "No matter what you do, ask Jesus to help you and keep your eyes on Him. Before you know it, everything you dreamed of will come true, that's what working at Campion and Jesus has taught me."
–Authors who contributed to this article include ​Bentlee Barry, Sami Hodges, Haley Enochs, and Tiffany Dien; photos supplied